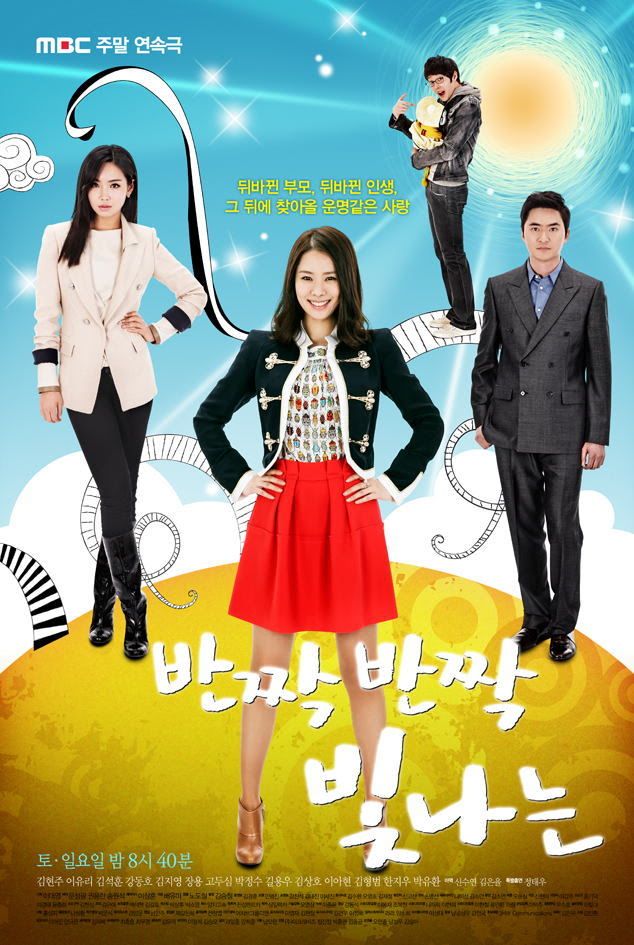 Details
Title: 반짝반짝 빛나는 / Banjjak Banjjak Bitnaneun
Also known as: Twinkle Twinkle / All That Glitters / Shining
Genre: Drama
Episodes: 50
Broadcast network: MBC
Broadcast period: 2011-Feb-12 to TBA
Air time: Saturday & Sunday 20:40

Synopsis
This drama tells the success story of Han Jung Won, a workaholic careerwoman who is determined to make her own way in life without the help of her family, which has garnered considerable wealth from their publishing company. Her life is turned upside down due to someone's mistake, and she faces numerous setbacks on the road to recovery.(berkisah tentang sebuah kisah sukses seorang wanita yang berjuang kembali setelah hidupnya diputar balik karena kesalahan orang lain).
Cast
Kim Hyun Joo
Lee Yoo Ri
Kim Suk Hoon
Episode 14: Part 1 Part 2 Episode 39: Part 1 Part 2
Episode 15: Part 1 Part 2 Episode 40: Part 1 Part 2
Episode 16: Part 1 Part 2 Episode 41: Part 1 Part 2
Episode 17: Part 1 Part 2 Episode 42: Part 1 Part 2
Episode 18: Part 1 Part 2 Episode 43: Part 1 Part 2
Episode 19: Part 1 Part 2 Episode 44: Part 1 Part 2
Episode 20: Part 1 Part 2 Episode 45: Part 1 Part 2
Episode 21: Part 1 Part 2 Episode 46: Part 1 Part 2
Episode 22: Part 1 Part 2 Episode 47: Part 1 Part 2
Episode 23: Part 1 Part 2 Episode 48: Part 1 Part 2
Episode 24: Part 1 Part 2 Episode 49: Part 1 Part 2
Episode 25: Part 1 Part 2 Episode 50: Part 1 Part 2
Teaser






Softsub : Darksmurf