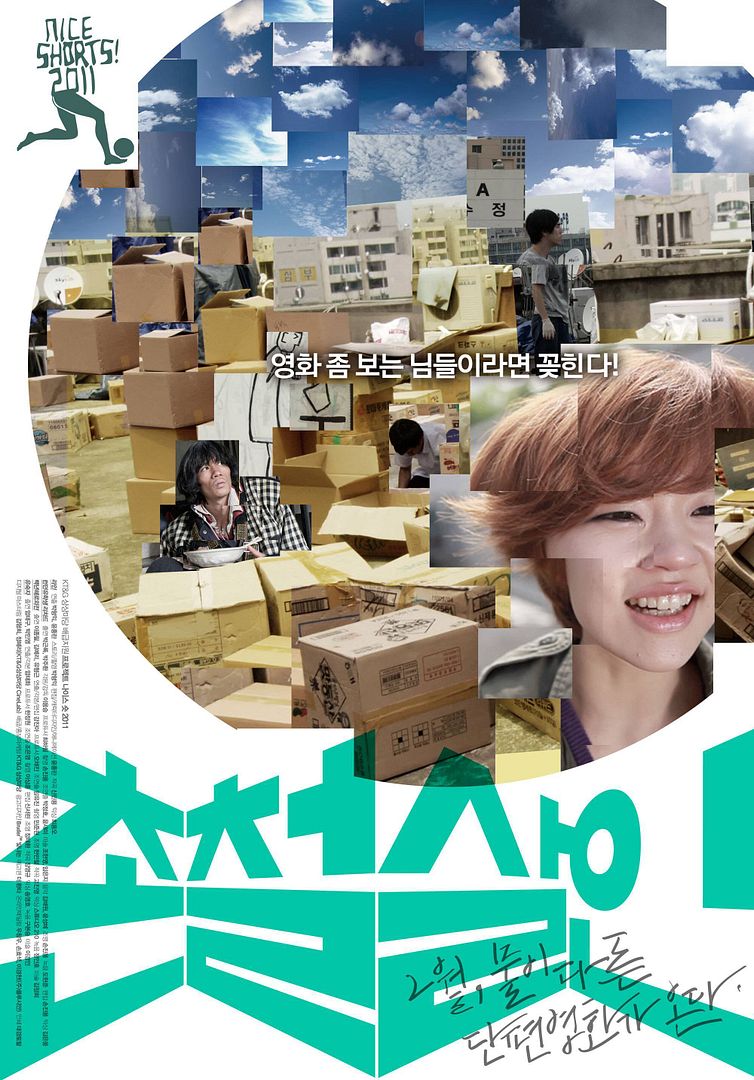 Details
Title : 촌철살인 / Nice Shorts!
Director : Eom Tae Hwa , Kang Jina, Lee Yong Seung, Park Hyeong Ik, Yoon Hong Ran
Genre : Omnibus Drama
Release Date : February 24, 2011
Poster : [1]
Photo Stills : [1]
Trailer : [1]
Synopsis
English
"Line" is directed by Park Hyeong Ik and Yoon Hong Ran
Your neighbor's cut line
His room with only a typewriter, a desk, a chair and a plant is the perfect room for work. One day as he is focused in writing, his neighbor crosses a line that shouldn't be.
"London Exchange Student Richard" is directed by Lee Yong-seung
Mother's friend son Richard wasn't in England?
A revenue officer test-taker Dong-seok graduates London Business School in the revenue office he worked part time in and meets Richard when he comes to Korea to make some money. Telling Dong-seok everything he knew about the work, Richard is the boss's favorite because he's from abroad. However, Dong-seok feels there's something fishy about him…
"Growing Old Together is directed by Kang Jina
A Happy Ending Love Story of Their Own
January 17th 3 AM, Cha-kyeong is dead. June 17th 3 AM, Hyeok-geun is still waiting for Cha-kyeong. People ask the not-okay Hyeok-geun, "Are you okay"? One day, Cha-kyeong appears in front of the still not-okay, not-able-to-sleep Hyeok-geun.
"Home Sweet Home" is directed by Eom Tae-hwa
My Fun House
Ye-ni lives alone…or she thinks so. However, the toothpaste she uses alone finishes so quickly, her scarf disappears then reappears and her unfinished knit muffler seems to be getting longer on its own. What's happening in Ye-ni's house?
Bahasa
'Nice Shorts!' terdiri dari 4 kisah pendek.
"Line"
Kamar pria itu, yang hanya memiliki satu mesin ketik, satu meja, satu kursi dan satu tanaman adalah ruang kerja yang sempurna. Suatu hari saat dia sedang berkonsentrasi dengan tulisannya, tetangganya melawati garis yang tidak boleh disebrangi.
"London Exchange Student Richard"
Dong Seok bekerja paruh waktu sebagai petugas pajak dan akhirnya lulus dari London Business School. Saat dia kembali ke Korea untuk mencari uang dia bertemu dengan Richard. Richard menceritakan Dong Seok semua hal yang dia ketahui tentang
pekerjaan, Richard adalah bos favorit semua orang karena berasal dari luar negeri. Tetapi, Dong Seok merasa ada sesuatu yang mencurigakan dari Richard…
"Growing Old Together"
17 Januari pukul 3 pagi, Cha Kyeong meninggal. 17 Juni pukul 3 pagi, Hyuk Geun masih menunggu Cha Kyeong. Orang-orang bertanya padanya, "Apa kau baik-baik saja?" Suatu hari, Cha Kyeong muncul didepan Hyuk Geun.
"Home Sweet Home"
Ye Ni tinggal sendirian… atau itulah yang dia pikir. Tetapi, pasta gigi yang dia pakai sendirian habis dengan cepat, scarfnya hilang lalu muncul kembali dan rajutan selendangnya yang belum selesai tampaknya bertambah panjang sendiri. Apa yang terjadi didalam rumah Ye Ni?
Cast
Park Keun Rok

Park Joo Hwan

Lee Jong Pil

Kim Ye Ri

Eom Tae Goo

Min Yeong